1. How to plan and organize a garage sale
Chapter 1
How to plan and organize a garage sale
How to prepare for a yard sale
Once you've made the decision to host a yard sale, you'll quickly realize how much planning goes into organizing a sale. Everything must be well thought out and organized in order for the sale to go smoothly. In this chapter we've put together some of our favorite garage sale tips and tricks for finding the right month, week, day and time to host your yard sale.
Believe it or not, choosing a date for your yard sale can make a dramatic difference in the number of customers you get at the sale. Weather, holidays, and timing all come into play when planning a yard sale and it's best to know this ahead of time.
Decide what type of sale you will have
There are several types of yard sales that are used interchangeably. You've probably heard of a rummage sale, a tag sale, and an estate sale, and while they are similar because they involved selling used goods, there are some subtle differences.
The different types of sales
Garage Sale: The selling of secondhand goods by an individual inside their garage. Items are usually set up on tables and display for sale within the confines of the garage structure.
Yard Sale: The sale of used goods, however, unlike a garage sale it is held outside in the yard, a driveway, the street, or a parking lot. Yard sales are great for those who do not have a garage or who live in an apartment building.
Estate Sale: The selling of an entire household of items due to a major life event (moving to a nursing home, death, liquidation). You can usually expect to find higher end and vintage items at estate sales. Estate sales can be held by private residents or by an estate sale company.
Rummage Sale: The sale of used goods associated with a fundraiser or charity. You will frequently see community centers, schools & churches holding rummage sales to earn money.
Tag Sale: A term usually associated with slightly higher quality items than you would find a yard sale, but not quite as high as you would find at an estate sale. Tag sale items tend to have a sale tag, which is how it earned its name as a tag sale.
Community sale: When residents of a community get together and have a yard sale on a specified day. Community sales can occur in one place like a local stadium or along a route through a city.
Multi-Family Sale: A yard sale that includes the belongings and goods of several different families. It's pretty common within neighborhoods to have a few neighbors get together and have a multi-family yard sale.
Moving Sale: Occurs most often the homeowner is downsizing or moving and needs to unload some items prior to the move. You can usually expect to see a good amount of furniture, electronics and tools at moving sales.
---
Choose a date
Best Time of Year to Host a Yard Sale:
The most popular months to host a yard sale according to YardSales.net data are May, June, July and September. Now there are two schools of thought in approaching which month to hold a yard sale. You can either go with the crowd and have a yard sale during the busiest months. Or you can hold out and wait for a slower month.
Go with the Crowd - Hosting a yard sale during the busiest time of year will ensure people are out visiting yard sales; however, it also means you have more competition for buyers' attention.
Host a Sale in the Off-months - Hosting a sale in the off months does have its advantages: fewer yard sales equals less competition. Unfortunately, it can also mean fewer buyers are traveling to yard sales.
Best Weeks to Have a Yard Sale:
Now that you've decided which month to have a yard sale, it's time to select a week. There are 4 and sometimes 5 weeks in a month, and would you believe there actually is a week (or two) that are better than the others? It's true!
Below we discuss the best and worst weeks to host a yard sale.
1st & 15th of the Month - Hosting a yard sale closest to the 1st or the 15th of the month is a strategy that top yard sale shoppers follow. Why? Because most people get paid bi-monthly around the 1st and 15th of the month. If they get paid, they have more money to spend, which means more sales for you!
Weekends After a Holiday Weekend: While we don't recommend hosting a yard sale during holiday weeks, we certainly encourage you to host one the week AFTER a holiday weekend. Why? People are home from traveling and looking to get back into their routines.
Back to School: Towards the end of July and August, most moms and college students have back to school on the brain. If you've got lots of kids clothing, shoes and inexpensive furniture to sell, having a yard sale during Back to School time can be very lucrative.
Worst Weeks to have a yard sale:
Unfortunately, there are some weeks you'll want to avoid. Here's a quick list of the weeks that most yard sale experts will tell you to avoid having a yard sale:
Holiday Weekends - Unless you live in a touristy area, you'll definitely want to avoid having a yard sale on a holiday weekend. The reason for this is because many people travel and spend time with their family. Going to a yard sale is not high on their priority list during those weeks.
First Nice Weekend of the Year - While it may be tempting to have a yard sale as soon as there is a nice sunny weekend, the truth is most people will want to be out enjoying the sun and NOT traveling around in a hot car from yard sale to yard sale.
Best Day to have a Yard Sale:
Saturdays and Sundays are the most popular days of the week to host a yard sale. This is because most people are off of work and have the time to drive around and treasure hunt. Holding a yard sale during the work week can have its advantages, however, especially if you have items that would appeal to the stay-at-home moms and retirees.
Best Time of the Day to have a Yard Sale:
According to our data, most yard sales start between 7-8:00am and end around 2:00pm. Most yard sale shoppers will tell you the majority of the sales happen in the first 3 hours of the sale. Some shoppers prefer to just shut it down when the customers reduce, while others like to stay open right up until the end to get the last minute shoppers.
Having your yard sale last until the late afternoon gives you a higher percent chance of selling more stuff and making more money. However, towards the end of the day, you should be prepared to reduce your price and negotiate with buyers.
---
Decide what to sell
Figuring out what to sell is the next task you'll want to tackle. There are many ways to organize and prepare items for sale, and in this chapter we'll discuss how to determine what should be sold, how to clean and how to organize the items for sale.
What Should You Sell?
When it comes to determining what you should sell, you should first think about why you're having a yard sale in the first place. Do you need to declutter? Are you downsizing? Are you hoping to make some money? Once you determine WHY you're having a yard sale, you can then begin to go through your items and sell the items that will help you achieve your goal. For instance, if you're moving to a smaller home in the near future, it might be a good idea to sell any oversized or underused furniture. Or if you're looking to make some money at your yard sale, you might consider selling some of your more valuable items.
Questions to Ask Yourself:
Have I used this item in the last 6 months?
Asking yourself this question as you go through your belongings will give you an eye opening experience as to whether or not you actually need the item in your life. If you haven't used an item in the last 6 months, or worse, it's been hiding under your bed for longer than that time period, you may want to sell it. There is a frugal rule of thumb that says if you use something less than 45 minutes a month, you would be better off renting it than owning it. This is especially true for kitchen appliances...which might explain why we see so many bread makers at yard sales. Although you may have had the best intentions upon purchasing the items, the truth is you just don't use it anymore. Time to sell it!
Would I buy this item again?
If you didn't already own this item, would you buy it again? (This is a great question to ask when going through your clothing piles!) Sometimes we buy things because they're on sale or we think we'll eventually fit into them, but then those same items sit on a hanger for months. So take a look at your clothing and ask yourself, "Would I buy this item again?" If the answer is no, then add it to your sell pile.
Does this item bring me joy?
This particular tip comes from the book, The Life-changing Art of Tidying Up. The premise of the book is that if an item no longer brings you joy, it's time to get rid of it. Admittedly, it seems a little hokey. But if you think about it, we all buy items for a particular reason, spur of the moment or from an emotional place. If that moment has passed and your favorite bell bottomed plaid jeans are just hanging in your closet unworn, then it may be time to say goodbye to the 70's to make room for what's in style now.
Can it be replaced if I regret selling it?
Moms, this one's for you. Children's clothes, toys and keepsakes can be sentimental, so we have a hard time letting go of them. However we sometimes NEED to get those overflowing boxes of clothes out of the closet, basement and hallway. So we sell them. If you think you might regret it, ask yourself: can this item be rebought? If so then go ahead and sell it. If not, then you may want to think twice about selling it!
---
Preparing items for sale
Now that you have a pile of items for sale, we'll discuss some of the ways that you can organize and prepare the items during the time leading up to your yard sale. You'll want to make sure everything is in working order, clean and ready to get top dollar at your yard sale.
Give Your Items the 8 Point Inspection
Clothing
Is it ripped? Does it have a button missing? Does it stink? Is it stained? If there is any sort of weird smell or tear in the clothing, it's probably a good idea to wash it on a gentle cycle and mend any rips. Having clothing that smells nice and in good condition will allow you to ask for top dollar.
Electronics
Does it still work? Does it require batteries? Are there pieces missing? People will most likely want to try out electronics before purchasing, which is why it's always a good idea to have a handful batteries and an extension cord on hand.
Toys & Baby Gear
Does it work? Is there a recall? Are there pieces missing?
Kitchenware/Glass
Is it cracked? Is it stained? Does it work?
Don't get me wrong, it's perfectly acceptable to sell ripped, malfunctioning, or cracked items as long as the buyer knows about it beforehand and the prices reflect the defects. Some yard sale shoppers love finding fix-it projects, so you can still make money on less than perfect items...you've just need to be upfront about it!
Bundle Like Items in a Ziploc Bag:
If you're selling small toys, candles or any items that can be bundled up, it's a good idea to bag them up in Ziploc bags and price them as a bundle. This technique works great for things like Barbies, legos, candles, utensils.
Where Are We Gonna Put All of This Stuff?
I've had many yard sales in my lifetime, and many times during the early days (when I was a little less prepared) I used to put all of my yard sale items in my living room, requiring me to live in chaos for the days leading up to the sale. This, my friends, is NOT the way to do it.
There are a couple ways to do this and we'll discuss them below:
Organize items in boxes or totes
Once all of your sale items are inspected and cleaned, you'll likely have to organize them in a place out of the way of your normal living spaces. The best way to do this is to organize your items by type and place them in separate tubs and boxes. Place the adult clothing in one box, the children's clothing in another box, kitchenware in another box, and so on. Not only will this help you keep your home tidy until Yard Sale day comes, but it will also help you stay organized as you're setting up the day of.
Dump it in the spare bedroom
If you're fortunate enough to have a spare bedroom, you can simply create several piles of items in your spare bedroom until the big day. As I mentioned before, it's best to have the items out of sight, so you don't lose your mind while living through a mess!
Organize it in the garage
If you intend to have a garage sale instead of a yard sale, then you can simply start to organize your tables and items for sale days and weeks ahead of time, assuming the weather elements will not get into your garage.
---
Advertising your yard sale
Now that you've chosen a date to host your sale and gathered items to sell, it's time to start thinking about how you are actually going to get people to your sale. In the old days, we used to throw up a few signs, take an ad out in the local paper, and call it good. Unfortunately, times have changed and advertising a yard sale has gotten a lot more complicated. In this day and age, thanks to modern technology, there are so many opportunities to advertise your sale, and the best part is most of them are 100% free!
Next, we'll take a look at best practices for yard sale signs and placement, as well as the many places to advertise your sale on the internet. In order to get the most customers to your yard sale, you'll need to use both killer yard sale signs and online advertising.
Yard sale signs
Permit or No Permit?
The first thing you'll want to do before putting up ANY signs is to check with your local town or city to see if there are any ordinances in place which would prohibit you from hanging up signs. Some cities require citizens to get a yard sale permit and pay a fee in order to host a yard sale. You'll want to make sure you are within the city ordinances before moving forward with your sale.
Once you've gotten the go ahead from the city, it's time to get started thinking about your signs. When it comes to yard sale signage there are several ways you can attack it. Some people go for the straight forward signs, while others take a humorous approach to their signs...either way, you'll want to follow some of these tips to get your signs noticed regardless of what they say.
Every Sale Sign Must Include the Following:
Type of sale (Moving, Yard, Garage, Multi-Family, or Estate)
Date & Time of the Sale
Address where the sale is being held
Bonus Tip: Include cross-streets for better navigation
Now remember, your potential customers will have very little time to fully read all of the text, so make sure to put the important stuff first in bold black letters.
White v. Neon Signs?
There's a little debate in the yard sale world as to whether white posters perform better than neon posters, and frankly, there is no scientific evidence to suggest either one over the other. However, we've always gone with neon because it stands out more and looks less like all of the other signs we see on the street. What's important is that the sign is large (at least 22x28) and that all of your signage is the SAME color. You don't want to confuse potential customers by having many different colored signs along the way.
Black Ink
Our favorite sign staple is the good old fashion Sharpie permanent marker. Make the lettering thick and legible. You should be able to read the sign clearly from 10-15 yards away.
Main Street Signs
If you live off of a main highway or street, you'll definitely want to place yard sale signs at the intersection of the main highway. These signs must be large and legible. I would recommend going with a standard foam board (white or neon). I also recommend having two signs for each intersection that way you can put one on either side of the street getting the attention of oncoming traffic in both directions.
Bonus tips to get more attention
Attracting attention is the name of the game with your signs and there are a few things that you can add to your sign to get more eyeballs on it:
Balloons
Streamers
Pinwheels
Neon Banners
Arrows
How many signs?
At each major intersection
An arrow sign at every turn
At least every 200 yards
There are several places around your community, like a grocery store or library, that may allow personal signs and announcements to be hung. This can be a great way to expand your customer base. Please keep in mind that you may have to ask permission before hanging your signs. Also, be sure to take down the signs once the sale is over.
Grocery store
Child's daycare center or school
Community center
Local Churches
Coffee shops
Gym
Garage sale sign kit (printable PDF download)
You can use these templates to help organize your sale with signs provided by gsalr.com.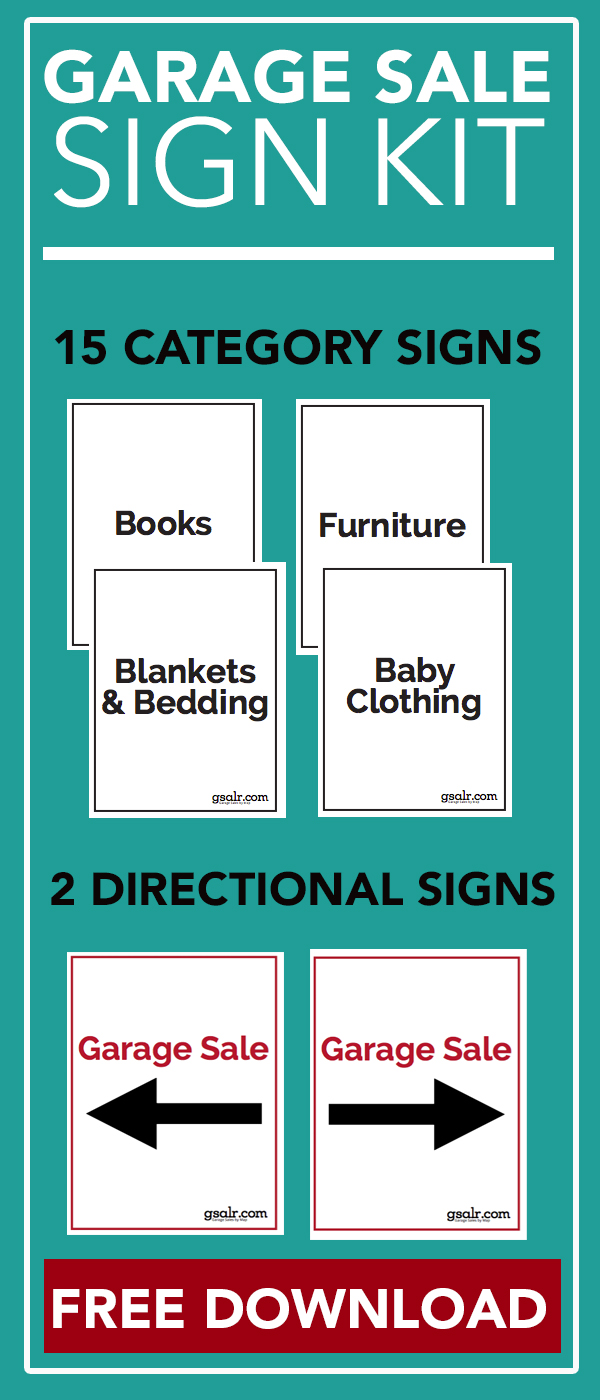 ---
Advertising a sale online
Take advantage of modern technology and list your sale online. There are several websites dedicated to listing yard and garage sales. The best part about most of the online advertising platforms is that they are almost all completely free to use! The only catch is you have to write an ad that catches the public's attention. Below we'll discuss some strategies for creating a yard sale advertisement that stands out to potential customers.
Creating the Perfect Ad
In order to get the most eyeballs on your listing, you'll want to employ these best practices when it comes to creating your yard sale online listing. Spending some time up front to create a compelling ad will pay for itself in the number of potential customers you will attract.
According to Treasure Listings data, some of the most common words in the description are furniture, huge, multi-family, etc. I would recommend including these popular words in your description to get more attention to your ad.
Yard Sale Ad Best Practices:
Use an attention-getting headline: "Moving Sale - Bedroom Furniture, Tools & Lawn Equipment" or "Star Wars Collectors Wanted - Collectors Yard Sale."
ALWAYS include photos of your items.
Be sure to list the brand names and types of items that will be for sale.
If you are selling clothing, list the sizes in the ad.
Be sure to list any collectibles for sale that buyers may be searching for.
Include the time, date and address of the sale. Include major cross streets for easy navigation.
List of Websites to Advertise your Yard Sale for FREE:
The Treasure Listings network of sites makes it easy to advertise your yard, garage or estate sale for free. But more importantly, it also promotes your sale out to their local email subscriber database on a daily basis. This means people in your local area will be notified about your sale. You can optionally pay for more mailer days which will further increase your sale visibility.
Another advantage to listing your sale on the Treasure Listings network of sites is when you list the sale on one site, it appears on all 5 websites! So you get 5x the exposure for your single listing!
Social Media
Another great way to get the word out about your yard sale is to announce it on your social media accounts!
Facebook - Let your friends and neighbors know about your upcoming sale by announcing it with a status update. Include photos and descriptions of the items. Who knows? You may sell a few items ahead of time!
Twitter - Tweet about your sale on Twitter. Because you only have 140 characters you are going to have to make it short and sweet. Include only the necessary information and then if you have space, name some of the items you'll be selling. "Moving Sale 124 Main Street 8-3pm. Furniture. Electronics. See you there."
Instagram - The day of and the day before your sale, upload a photo of your sale items to Instagram and use hashtags to draw attention. Things like #yourlocalcity #yourstate #yardsale #garagesale #for sale will help you advertise for people looking at those hashtags.
Newspaper Ads
While newspaper ads are not as popular as they once were, they can still drive customers to your yard sale. There is still a good amount of the population who use newspapers to find sales, so it's best to place an ad in your local paper as well as online.
We'd recommend calling up local paid and free weeklies to inquire about yard sale advertising rates. You can expect to pay anywhere from $25-$200 for a yard sale ad, depending on the readership and reach of the newspaper. Newspaper ads are usually text based, so you'll definitely want to include the most important details first. Date, Address and Time. If any space is left, you can list some of the more valuable items for sale.
For example:
Multi-Family Yard Sale 123 Main Street Santa Cruz 8/8-8/9 @8am-3pm. Lots of furniture, electronics, baby clothing and collectibles.
This ad gives all the pertinent information, as well as entices buyers with a description of what will be at the yard sale.
---
How to set up a garage sale without tables
Sometimes it takes a bit of creativity to display your items without tables. Here are a few yard sale ideas for hanging clothes and more:
Two ladders and a couple of boards
Display books in plastic bins
Assemble a few wooden pallets into a makeshift clothes and shoe display
Use plastic crates
Stack wooden crates into display cases
---
Garage sale supplies checklist
Make sure you have all the supplies needed to make your sale run smoothly. The following is a list that covers advertising, pricing, organizing and displaying, money handling and buyer supplies.
Supply list
Pricing stickers
Blank stickers
Hand sanitizer
Stapler
Shopping bags
Batteries
Boxes
Signs (Bright Neon)
Black Sharpie Thick Tip
Calculator
Notebook (or our profit sheet) to keep track of profits & sales
Card Tables
Measuring Tape
Garment Rack
Moving Dolly
Mirror
Packing supplies (tissue, bubble wrap, rope)
Extension cords
$50 in single & five dollar bills
$10 in Quarters (coins)
Fanny pack (for holding money)
Rubber bands & Ziplock Bags (to tie like items together)
Paper towels
Trash can
We have created a printable list of these supplies that is free. Click the graphic below to download the PDF checklist.